Open RDM
With this Windows Software you can configure and supervise RDM-enabled fixtures. A USB-Interface based on the FT232R (FTDI) is used for DMX communication.
What is RDM?
RDM is the abbreviation of remote device management - an extension of the DMX512 protocol specified in ANSI E1.20. To communicate with a specific device the normal DMX stream is paused and a packet with an RDM specific alternate start code is transmitted. Such a packet consists of an alternate start code, a target address, a source address, information regarding to length and meaning and the payload. The packet is finished with a check sum. For more information see the resources...
Typically RDM is used for:
changing the start addresses of fixtures (patching)
changing the operating mode of fixtures (personality)
parameterization
retrieving status information (errors, temperatures, currents,...)
Software
"RDM Controller" should demonstrate the benefits of remote device management without the need of expensive commercial RDM-Controllers. Furthermore the software can ease the implementation of RDM in your own devices or softwares.
"RDM Controller" incl. sources is GPLv2 and written in C++ (C++ Builder 6).
The Config panel is used for configuring fixtures. Currently the following parameters are supported:

device name (can be edited)
manufacturer
product category
version of firmware
start address (can be edited)
DMX footprint
Personality (can be edited)
inversion of pan and tilt
device hours
lamp hours (can be edited)
state of fixture
preheat, limit and error scene

Fixtures can be patched rapidly with the patch panel.
The DMX panel emulates a simple DMX desk with 16 channels. You can test fixtures with it.
Hardware
The openRDM-Dongle is made of an FT232R of FTDI. OpenRDM is backward compatible to OpenDMX of Enttec (but not vice versa!).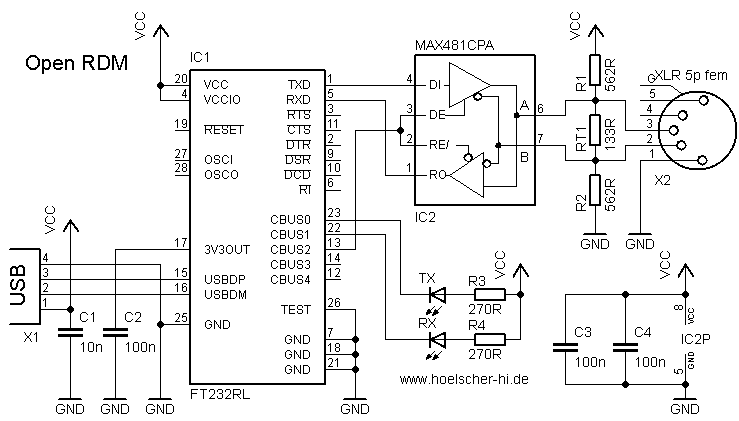 Instead of developing a layout and etching pcbs we use some cheap RS485 modules made by Devantech.
Demo-Responder
At the moment commercial RDM-enabled fixtures are quite expensive. So for first experiences with RDM the DMX-Transceiver with the RDM firmware might be a good choice. (This firmware is discussed on the resources page.)
Alternatively you might use the RDM dimmer firmware.